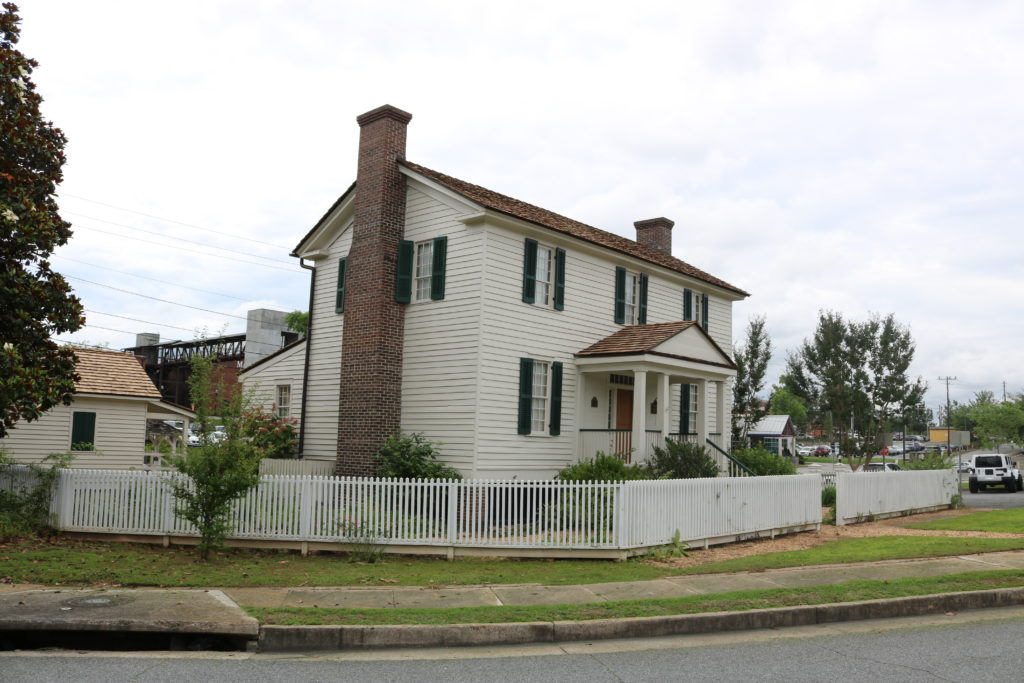 The Smithsonian Magazine hosts a free day of entry to the Root House Museum
[ad_1]
William Root House will be offering free entry for two on Saturday, September 18, 10 a.m. to 4 p.m., to anyone with a Museum Day ticket, available at https://smithsonianmag.com/museumday.
The house and museum are located at 80 North Marietta Pkwy NW, Marietta, GA 30060.
The press release from the town of Marietta describes Museum Day as follows:
Museum Day is an annual event hosted by "Smithsonian" magazine in which participating museums across the country open their doors to anyone presenting a Museum Day ticket.
The press release describes what visitors will experience:
The c. The 1840s, William Root House, one of the oldest houses in the Atlanta area, was originally the home of Cobb County's first settlers, Hannah and William Root. Today, Cobb Landmarks & Historical Society operates the historic property as a home museum depicting middle-class life in Antebellum, Georgia. Although the house and grounds have been meticulously restored to return to their 1850s appearance, modern touchscreens and award-winning interactive displays have been added to help tell the story of the Root family and their enslaved servants.
About the Root House
The William Root House was built around 1845 and was the home of William Root and his wife Hannah.
William Root was a pharmacist born in Philadelphia. He moved to Marietta in 1839 to open a pharmacy and a general store. He married Hannah Rhemer Simpson a year later, and they built the house in what is now Church and Lemon streets.
It was then moved to face Lemon Street and belonged to William Root until 1886.
Subsequently, it had a series of owners and experienced a steady decline, and in the 1940s it was divided into apartments.
In the 1980s, the house was in very poor condition and had to be demolished.
A preservation effort began, and in 1989 Cobb Landmarks & Historical Society purchased the house and moved it to its current location at 80 North Marietta Pkwy NW, Marietta, GA 30060.
About the town of Marietta
The town of Marietta is the seat of Cobb County. The latest estimate from the US Census Bureau puts the city's population at 60,867, making it the largest city in Cobb County in terms of population.
However, the city is in a neck and neck race with the rapidly growing Smyrna, whose population was 56,666 at the latest estimate.
Here are some quick facts from the Census Bureau
Town of Marietta, Georgia
Demographic estimates 2019
60,867
Source: Population estimates for the 2019 vintage
Median household income
$ 57,452
Source: 2015-2019 American Community Survey, 5-year estimates
People living in poverty, percentage
14.0%
Source: 2015-2019 American Community Survey, 5-year estimates
Educational attainment: percentage of a high school diploma or more
87.7%
Source: 2015-2019 American Community Survey, 5-year estimates
People without health insurance, percentage
18.1%
Source: 2015-2019 American Community Survey, 5-year estimates
Median value of dwelling
$ 287,600
Source: 2015-2019 American Community Survey, 5-year estimates
Total number of housing units
26 878
Source: 2015-2019 American Community Survey, 5-year estimates
Number of companies
10,501
Source: 2012 Business Owner Survey: Company Summary
Median income of men
$ 36,894
Source: 2015-2019 American Community Survey, 5-year estimates
Median income of women
$ 29,239
Source: 2015-2019 American Community Survey, 5-year estimates
Veterans
3 132
Source: 2015-2019 American Community Survey, 5-year estimates
Percentage of households with a broadband Internet subscription
84.9%
Source: 2015-2019 American Community Survey, 5-year estimates
[ad_2]