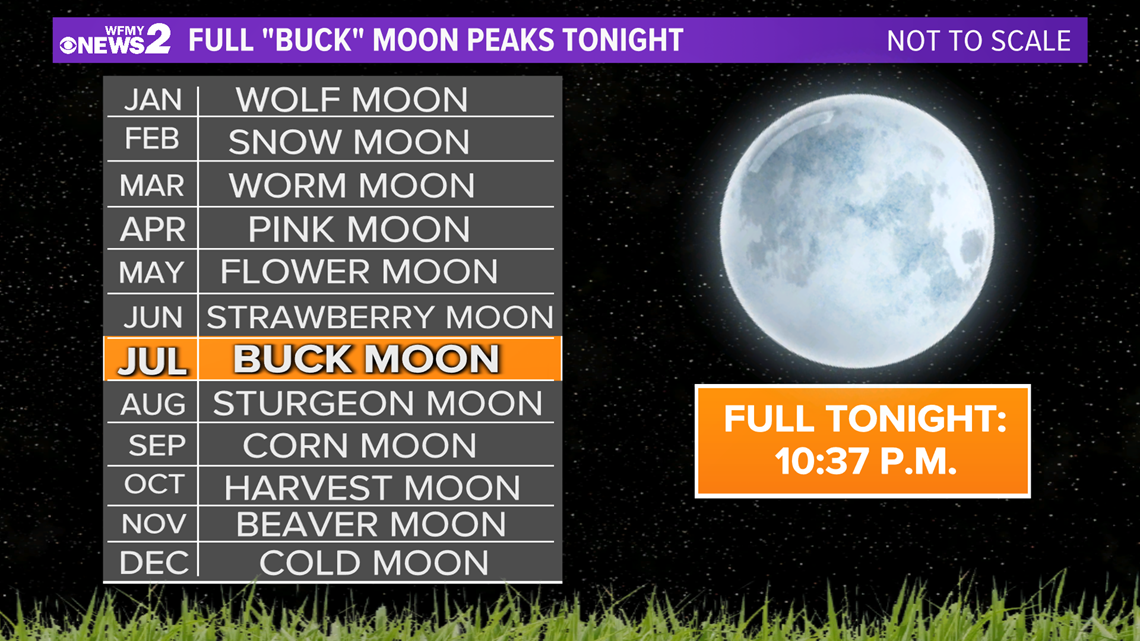 The full moon lights up the sky late Friday night through the triad
A lingering haze can give this moon an orange tint.
GREENSBORO, NC – Picturesque sunrises and sunsets have engulfed our skies in recent days due to lingering plumes of smoke from the California wildfires. While the blur is decreasing, allowing for a more natural look of our Triad skies, the end of this week will offer another cool late-night view: the Buck full moon. There won't be any spectacular colors expected with this view; however, it will be a beautiful round full moon that will light up the sky.
The moon will reach its full phase at 10:37 p.m. EST this Friday. This full moon is known as Buck Moon, Thunder Moon, or Hay Moon.
The lingering haze could help this full moon to have an orange tint. Overall, weather conditions across the Triad should remain calm and allow a good view of this full moon.
Other Native American tribes have different names to assign to this moon, most notably the midway summer moon, according to the Ojibwe people of the Great Lakes region; Corn at Tassel Moon, according to the Cherokee; and Feather Molting Moon, according to the Cree Nation of Central Canada.
According to Native Americans reported by NASA, since July, this is usually the month when deer grow new antlers on their foreheads. In addition, the name "Thunder Moon" is due to the frequency of thunderstorms during this month. NASA also reports that the "Hay Moon" is attributed to this busy season of farmers collecting hay and preparing for the winter season.
After Friday until the end of the month, the amount of moonlighting will gradually decrease.