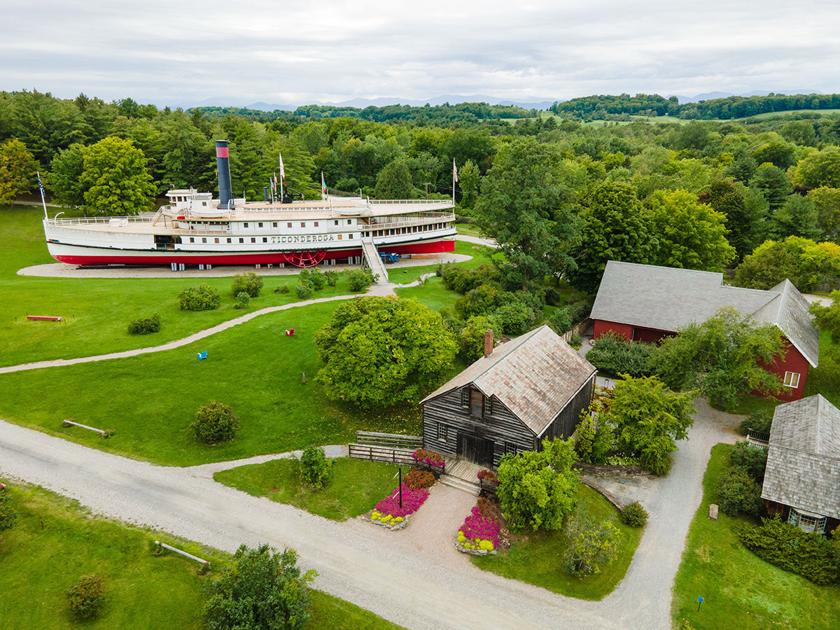 Shelburne Museum reopens: Currier and Ives and Mrs. Scollay join Mr. Scollay | Vermont Arts
Black smoke billows from the stack of the locomotive blowing along the tracks with its red cowcatcher in front and tiny passenger cars in tow. In the background, a white paddle wheel steamboat sails along a wide river.
Picturesque and luminous, Frances Flora (Fanny) Palmer's lithographic print, "American Express Train" (1864), celebrates technological progress. The civil war was not over, but the picture looks to the future with optimism.
"American Express Train" is one of 60 prints in the exhibit "Revisiting America: The Prints of Currier and Ives," which opens next week at the Shelburne Museum.
The Shelburne Museum reopens its entire 45-acre campus and nearly all of its 39 exhibit buildings on Wednesday. The park of the museum is in all its spring splendor. Museum buildings are ready to welcome visitors again, with security protocols in place – limited occupancy of buildings and masks inside at this time. The 1903 carousel turns. Even the cafe is open.
"We're almost fully open and it looks awesome. We look forward to welcoming people here, "explained Tom Denenberg, Director of the Shelburne Museum.
New exhibitions are up and coming. Outdoor sculptures of "Peter Kirkiles: At Scale" are installed around the campus, including a wooden camera and a steel clock. In the galleries of the Pizzagalli Center for Art and Education, "Revisiting America" will be joined by "New England Now: People", opening June 26th. Organized by Carolyn Bauer, "New England Now: People" features contemporary artists who consider the people and communities of our region today.
Two separate long portraits are brought together in the Webb Memorial Gallery. John Singleton Copley, a prominent 18th century portrait painter, painted portraits of prominent Bostonian John Scollay and his wife in the 1760s. Over time, the paintings ended up in separate collections. John Scollay's, purchased by museum founder Electra Havemeyer Webb in 1959, then came to Shelburne. "Mrs. John Scollay (Mercy Greenleaf)," originally intended to be exhibited with her husband, had previously been separated from him and was held in a different collection. Several months ago, Mrs. Scollay's painting was listed for sale through Sotheby's Acquired by the Shelburne Museum, she is again alongside her husband A webinar by Denenberg on the paintings and the recent acquisition is on the museum's website.
"Revisiting America: The Prints of Currier and Ives" comes to Shelburne from the Joslyn Art Museum in Omaha, Nebraska, continuing a collaboration between the two institutions. In 2016, food company Conagra Brands donated nearly 600 Currier and Ives prints to Joslyn.
"Currier and Ives were truly the 19th century publishing powerhouse when it came to delivering images that the average consumer could afford to decorate their home. These were meant to be visually compelling images and they were to attract a wide range of buyers, "said Katie Wood Kirchhoff, associate curator at the Shelburne Museum.
Founded by lithographer Nathaniel Currier in 1835, the company that became Currier and Ives in 1857 continued until 1907. A crucial impression in starting the business was Currier's vivid image of the ruins of the Merchant's Exchange in New York City. after being devastated by fire in 1835. Published in the New York Sun, this was one of the first illustrated articles. His prints of the dramatic picture sold out quickly, showing the public's appetite for affordable pictures, even, or perhaps most importantly, of disasters, for their homes.
Currier and Ives' subjects were motivated by the interests of their clients. They document aspects of their time and reflect the values ​​and interests of their audiences – nostalgia for simpler times, Victorian ideals, increased leisure time and engagement in sport, humor, excitement of technological progress, western expansion of America, etc.
Currier and Ives worked with many well-known artists of the time, reproducing their paintings as prints. They also had a team of artist-lithographers producing images. Their lithographs, images engraved on stone and printed in black on white, have been hand painted in watercolors throughout much of the company's history, with color printing arriving in the late 1800s. They have released more than 7,500 different prints, with artists producing two to three new images per week.
Prints by several of the firm's greatest artists are included in the exhibition – sports scenes by Arthur Fitzwilliam Tait, the clippers by James Butterworth, "Central Park, Winter: The Skating Pond" by Charles Parsons, a scene from winter of George H. Durrie.
Frances Flora Palmer was the rare artistic woman at Currier and Ives. Born and educated in England, Palmer worked there from 1849 to 1868, producing over 200 images. His images have compelling qualities of depth and composition.
"Most of Fannie's images were designed to be lithographs. She thought about the color and the composition. Once you tune in, you can almost choose hers, "Kirchhoff said.
"Revisiting America" addresses several themes. "Sporting Life" features hunting and fishing, a high-speed horse-drawn sleigh race and a beautiful image of an 1866 baseball game. "America at War and at Peace" includes battle scenes , historic moments, revered presidents. Romantic images of the American West, mostly by artists who have never traveled there, are featured in "The Frontier".
Considerable thought has been given to including a more difficult aspect of engravers – their images of the southern United States. Less than a decade after the Civil War, their scenes included sentimental views of the pre-war South – images of the gracious lives of white plantation owners and a view of enslaved blacks as content with their servitude and their status. Examples of these are in the show. The museum's text notes that Currier and Ives also posted mocking and degrading images and fanatic cartoons of black Americans, though none of these are on display.
"It's the museum's job to tell stories in a balanced way, and it seemed like such an omission to leave those images out. By putting these objects together, we get informed conversations about why they look like them and how these stories work, "Kirchhoff said.
"Revisiting America" has a nice connection to the Shelburne Museum collections. Among the museum's collections there are large and small artifacts and buildings with a strong resemblance to the subjects of the prints – the Ticonderoga side-wheeled steamboat, the 220 locomotive, the sleds and cars in the Horseshoe Barn, Victorian vases and tableware in decorative arts collections, and much more. . The printing press also shed light on the processes that created these popular works.