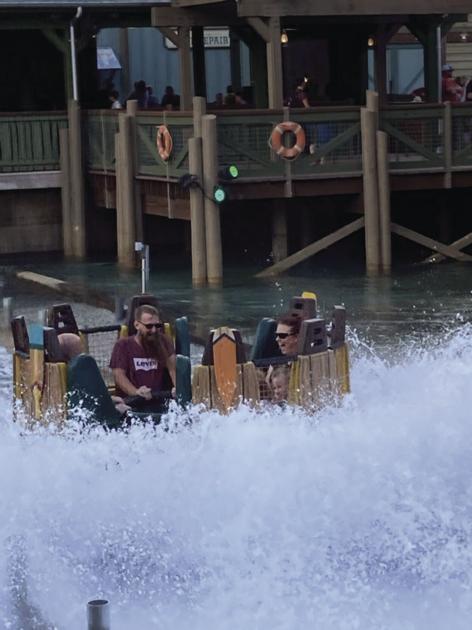 Our Mystic River Falls Adventure in Silver Dollar City | Viewpoints
I was recently invited to go to Silver Dollar City to celebrate my "granddaughter" Maddy's 7th birthday.
So, on Sunday October 3, my fiance, daughter-in-law and I joined Ashley's family on an adventure in Silver Dollar City.
Growing up in Branson, I used to spend a lot of time in Silver Dollar City, but I haven't been around very often as an adult. The last time I went was in 2016 with my best friend and her family. I saw all the changes they talked about on social media and this adventure gave me the opportunity to check it out for myself.
We arrived at SDC around 1pm and started our anniversary day by stopping and taking photos in front of the pumpkin and the scenic areas near the entrance.
One of our stops was the new Mystic Rivers Falls, which replaced my all-time favorite SDC ride, The Lost River. Surprisingly, all the kids were up for it except one.
Since someone had to stay behind to watch her, we, the adults, decided to take turns. My fiance and I took the other four kids with us to go upstairs first. As we were waiting in a not-so-long queue, we were told there were technical difficulties and the ride would be delayed by 15 minutes or more as workers worked through the issue.
It was about 20 minutes but eventually the line started to move and it was our time to board. The children, especially the three girls, were all a little unsure of the route. We sat down and were about to check out the Mystic River Falls. In the middle of the ride all the kids and us adults had a blast. Everyone was laughing and really enjoying the water pouring over us as we reached the rapids.
Then the ascent of the eight-story elevator to the great fall began. My daughter-in-law sitting next to me was getting more and more nervous and her fear could be seen on her face. Once at the top our raft twisted and lowered the 45ft high waterfall. Cries of panic and joy escaped from the raft as we splashed around each other. Almost everyone wanted to do it again, right after.
To learn more about my SDC adventure see a future edition.