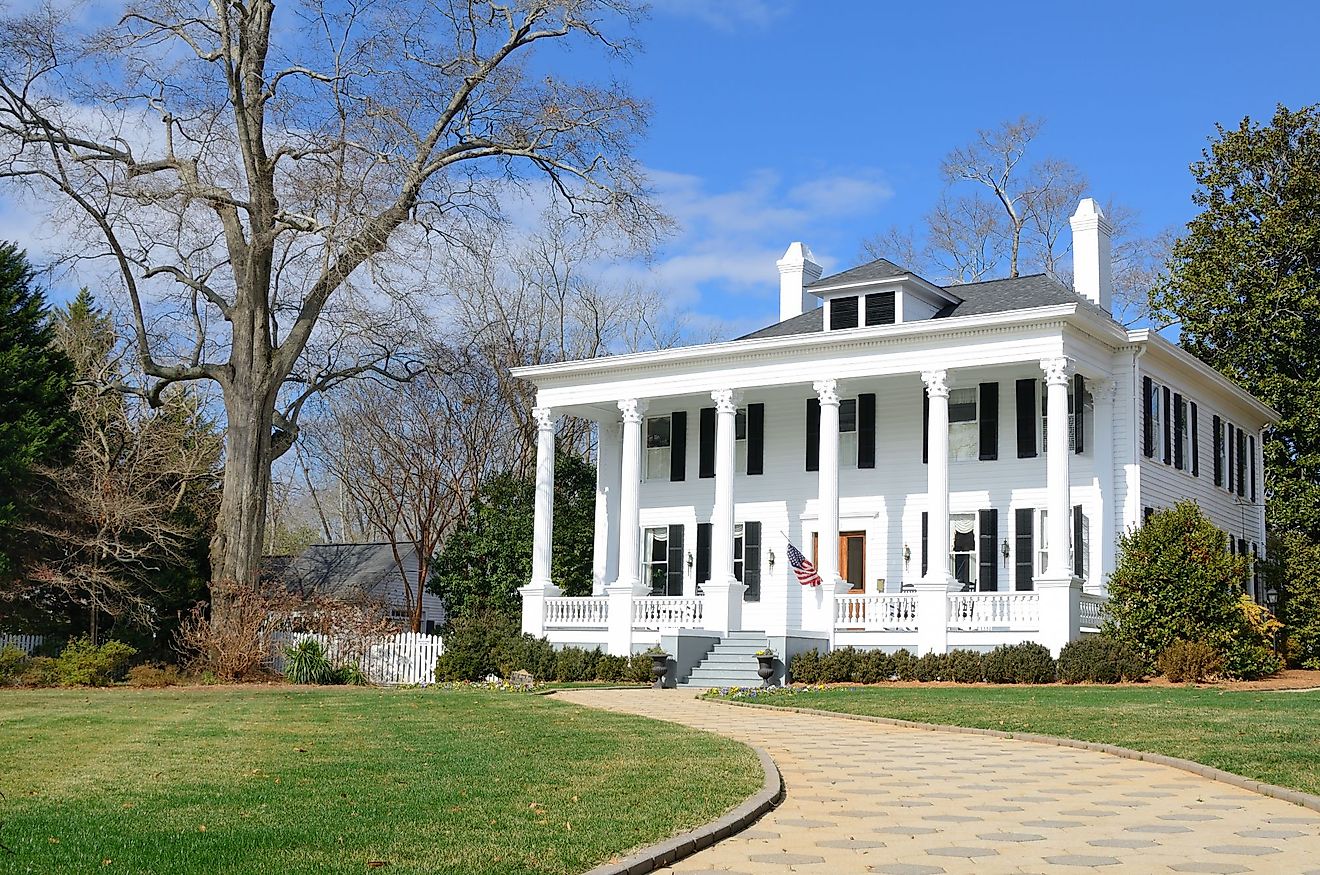 Madison is a small town located in Morgan County in the US state of Georgia. Located between mountains and plains, Madison is one of Georgia's largest historic districts. It's a city containing some of America's most treasured architecture, a place where the best of the past merges with the hope of the future. People visit Madison for all kinds of reasons: the spectacular antebellum and Victorian homes, multiple outdoor activities, world-class cultural events, and unique shops and restaurants. The city is well known for its high quality of life, providing its citizens with excellent public and private places to visit.
Geography and Climate of Madison
Madison is in the heart of the Piedmont region, just one hour east of Atlanta, located exactly between Atlanta and Augusta. Madison covers a total area of ​​22.94 km2, of which 22.75 km2 is land and 0.19 km2 is water. Madison's climate is hot and muggy in the summer, short, cool, and rainy in the winter, and partly cloudy most of the time. The average annual temperature fluctuates between 37°F and 90°F, rarely falling below 24°F or rising above 37°F. From May 24 to September 17, the hot season, with an average daily high temperature above 30°C, lasts 3.8 months. The hottest month of the year in Madison is July when highs average 90°F and lows 72°F. Between November 28 and February 26, which is the length of the cool season, the daily high temperature usually falls below 62°F. January has an average low temperature of 37°F and a high temperature of 55°F , making it the coldest month of the year in Madison.
Brief History of Madison
Madison, the county capital and main city was founded in 1809. Madison is an authentic small southern town named after President James Madison and was one of the first towns to bear his name. Most of Madison's fine homes were built between 1830 and 1860, a time when cotton was king, and prosperous citizens of Madison built townhouses to complement their rural plantations.
Madison's population and economy
According to the last US census, Madison, Georgia has a population of 4,447. Of this population, 49.4% were men and 50.6% were women. In terms of age distribution, 6% were under five, 23.3% were under 18, and 17.7% were over 65. Regarding the ethnicity of the population, 49.81% were white, 43.15% were black or African American, Native American was 0.2%, Asian was 0.74%, other races were 2.99% and 3.1% were Hispanic or Latino. According to the same census, 61.6% of Madison's population ages 16 and older were in the civilian labor force (58.4% female), and 14.5% lived in poverty. The median household income (2016-2020) was $51,142 and the per capita income over the past 12 months was $24,772.
Attractions in Madison
Heritage Hall
One of Madison's many antebellum homes, Heritage Hall was built in the early 1800s. It was built by Dr. Elijah Jones, a Confederate Army physician. It constitutes a chamber called the phantom chamber; some visitors say they have seen the young mother's ghost here. Therefore, those wishing to explore this mysterious yet beautiful house can book a guided tour.
Madison Morgan Cultural Center
The Madison-Morgan Cultural Center was one of Georgia's first elementary schools. The center now hosts a range of theatre, dance and music performances.
city ​​park
Town Park serves as a meeting space in the community. However, this is also where festivals like the Firefly Festival, Madison Festival, and other fun gatherings in the community will be found.
Madison, Georgia is a lovely place to visit due to the many tourist attractions it boasts of. Tourists have several activities to do while visiting this historic and unique city. They will be entertained and educated about the past by visiting the town's many pre-war houses.