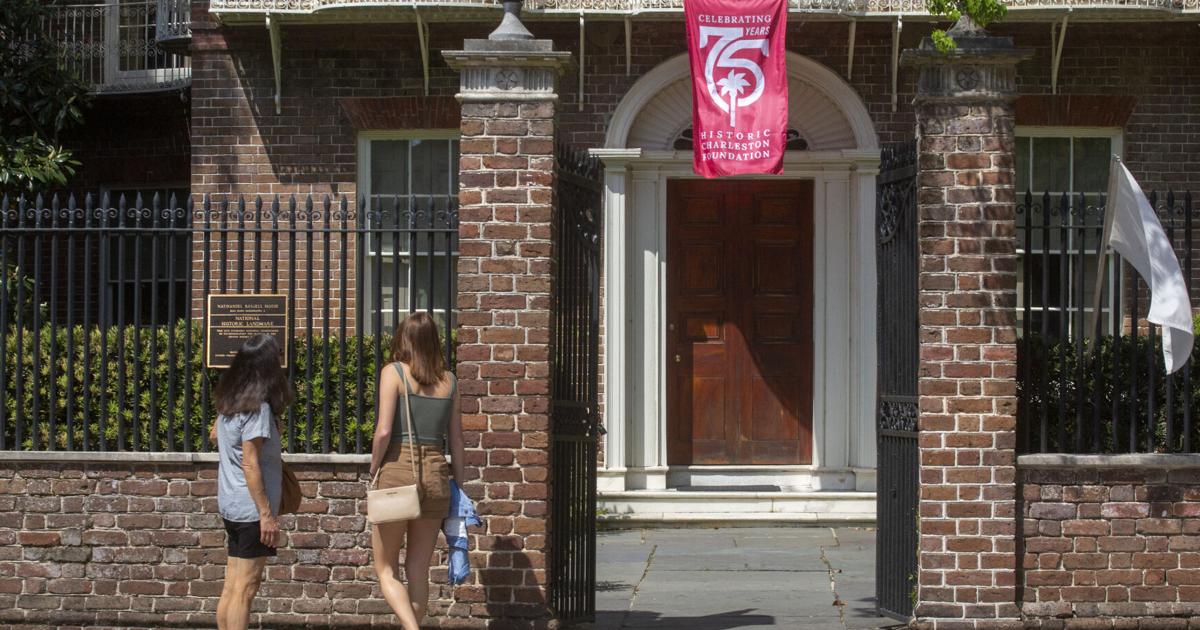 Historic Charleston Foundation celebrates 75 years of preservation with anniversary flags | Features
Sometimes raising a red flag is a sharp warning of trouble ahead. And other times, it's cause for breathtaking celebration.
And for the Charleston Historical Foundation, it could be considered both.
As the organization commemorates its 75th anniversary and Charleston rushes with new developments, the organization can celebrate the hundreds of properties it has helped consolidate and save. It can also toast to a mainstream preservation philosophy that has recently found a new generation of flag lovers.
In 2021, when the foundation started thinking about ways to celebrate the anniversary, the conversation turned to its longtime loyalty program which has worked with up to 400 owners to provide preservation support. These properties also run the gamut, covering luxury mansions and modest single-family homes, as well as businesses and new builds.
"It's that kind of silent powerhouse in our quiver of preservation tools," said Winslow Hastie, president and CEO of the program's foundation, which funds restorations and works closely with grantees to maintain standards.
The committee decided it was high time to amplify the program, to show the impact of the foundation, which for decades had been working quietly behind the scenes in Charleston.
After brainstorming, then discarding possibilities like QR codes on houses, they landed on a simple and elegant plan. The foundation would mark its decades of advocacy and preservation support with flags, to literally mark as many places as possible that were connected to the nonprofit organization's mission and programs.
So they worked out the key details, cutting out countless meeting hours to get the job done right.
They established the intended recipients. Each building with a flag represents an easement property, covenant property, partner or friend of the foundation, or property that has been touched by the foundation in some way.
They also focused on the dimensions of the flag, diving into the pros and cons of portrait vs. landscape formats and ultimately opting for the former.
"In retrospect, we could have done it a little differently, trying to figure out how to direct it," Hastie explained.
There was also the matter of color. In a bold departure from the previous one, they decided to forego the signature green of the foundation for a bright red tone that was sure to pop on the streets of Charleston. They would sport it with a special celebratory 75th anniversary badge, bringing in master Charleston graphic designer Gil Shuler to design it.
And, in their ever more purist quest for aesthetic property, they took a collective and necessary naval look, contemplating the various ways passers-by would engage with these saturated nylon bands, whether near or far.
"We really wanted to group together at least some areas of the city, where we have a high concentration of properties, so that there was this kind of cumulative visual impact of all these flags," Hastie said.
The committee then unpacked the logistics of their hanging, as if weighing in on a street-facing facade embellishment meant to bridge spatio-temporal distance. Evaluating their guidelines for mounting them, they ultimately gave homeowners the leeway to hang them based on their particular structure configuration, hoist them, drape them, or fasten them for maximum effect.
Article established, they crafted a letter inviting owners to participate and mailed it out, with no preconceived idea of ​​what to expect in return.
"The response has been really great and high," Hastie said.
A record year
The foundation set out to send around 200 commemorative flags, delivering them with mounting instructions, zip ties and a specified date of April 25 to begin mounting.
Such was the enthusiasm for these thoughtful preservation testimonies that many let them fly before the designated date, Hastie said. They are expected to remain until the end of May, perched proudly on homes and businesses across the peninsula.
Turn a corner in downtown Charleston and you're bound to see a ruby-colored rectangle wiggling cheerfully as if it were a neighbor waving you through. Some are hoisted to proud poles. Others drape themselves languidly in a classic Charleston plaza. Others swing with wrought iron garden gates.
Overall, they also demonstrate the extent of projects that have benefited from preservation. It's not just the antebellum emblems long associated with the movement, but all manner of structures that come together in a Charleston community.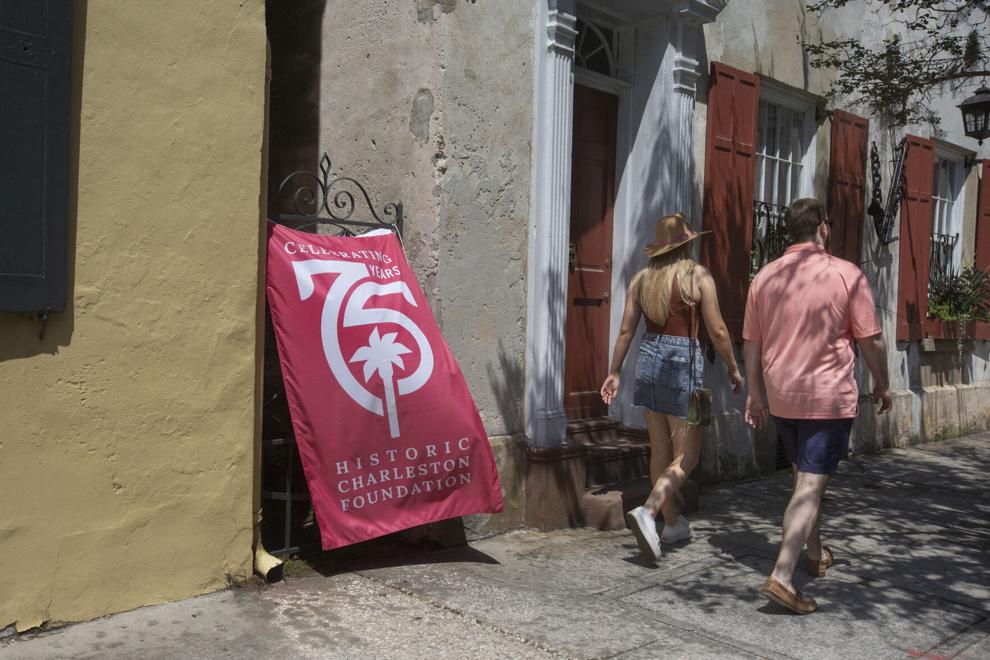 You'll spot this pink rectangle on a freedman's cottage or two, or the old high school at 55 Society St., or straddling the railing of the swanky new Delta Pharmacy at 236 East Bay St.
While preservation certainly involves the city's historic homes and plantations, Hastie said, that's only one factor in the foundation's institutional mission.
On charter day, April 28, the foundation's annual awards ceremony at First Baptist Church also exemplified the wide range of its mission. Beneficiaries included the aforementioned pharmacy and horizontal ownership scheme that maintains the high school, as well as UpSouth Masonry & Construction; Bob Hortman, the longtime land manager of Medway Plantation; Second Presbyterian Church; and West Ashley II Fire Station.
Hastie said the iconic new construction demonstrates that preservation is on a continuum.
"It didn't stop 50 years ago, and it's just a rush to try to preserve the things that were built in the past. It shows that the kind of ethics and thought process that is integrated into preservation can continue to the present day," he said.
Long-time conservation enthusiast Heyward Carter received the Frances R. Edmunds Award and a special recognition award went to the Whaley family, who for decades have maintained and welcomed so many to the Loutrel Briggs-designed garden at 58 Church St.
But with this hard-earned victory lap toasting decades of homes torn from the jaws of abandonment, or encouraging the restoration of mantels and moldings that so easily get lost in the flood of house-turnings, the lineup for the 75th anniversary of the founding also forms a watchful eye on the future of Charleston.
Ongoing celebration
From 6 to 7:30 p.m. on May 19, the Charleston Historical Foundation will host a panel discussion at the Museum of Charleston titled "Charleston Plan: Charting a Course for the Next 20 Years," which focuses on the city's new development plan. city ​​for the peninsula.
Developer Vince Graham will moderate a panel including Brent Jonas, Director, Stakeholder Relations, Charleston Regional Development Alliance; Tim Keane, Director of Planning, City of Boise; and Michael Phillips, Director/Chairman, Jamestown LP.
During the Charter Day ceremony, the organization launched a new video created by Thesis Content. In gritty documentary style, it lays bare the rapid development of Charleston and the ensuing displacement of the peninsula from longtime residents.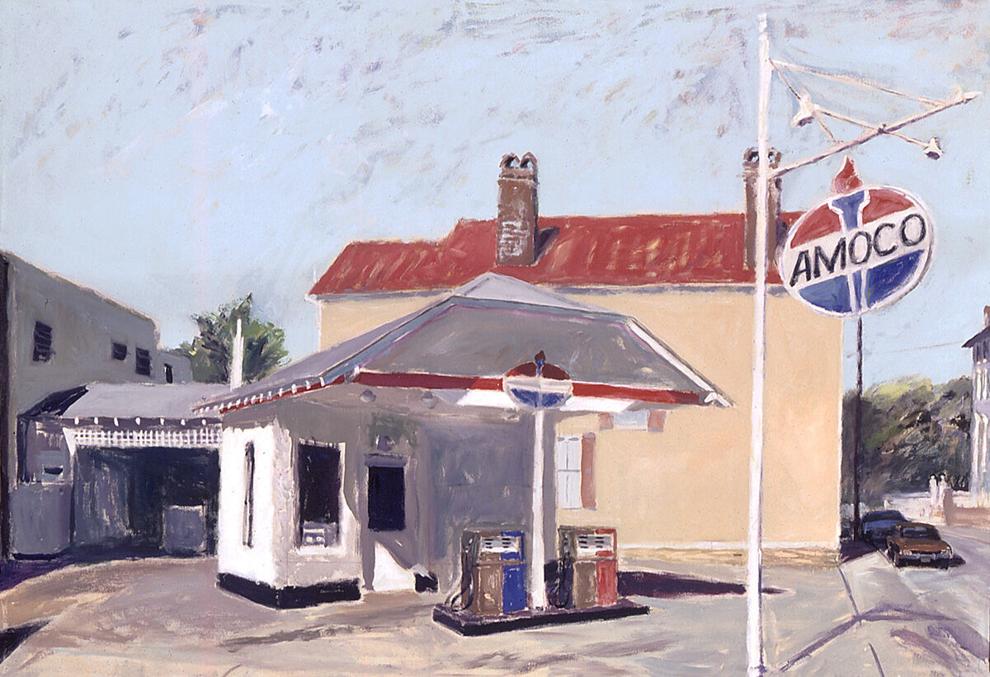 And that informs the Historic Charleston Foundation's "Common Cause" revolving fund program. In it, Hastie points out: "Preservation is not just bricks and mortar. Preservation is about the community; it's about people.
For Hastie, the penchant for preservation in Charleston today is clear, with many current residents and owners eager to carry the torch, and to do so with joy. Case in point: those proud flags that radiate positivity.
"They're excited to do it, and we want to celebrate that philosophy," he said.
For more information about this event and the Historic Charleston Foundation, visit historiccharleston.org.