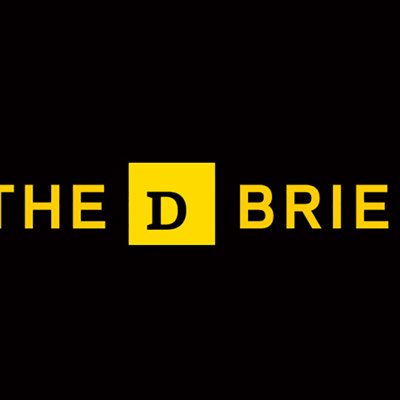 D Today's Brief: Refugees, an "unprecedented humanitarian crisis" hits Europe; cyber warning; The Russians fire on the demonstrators; And a little more.
Invasion of Ukraine by Russia, day 27: More people fled their homes, and faster, than in any other conflict in recorded history. That's according to the latest figures from the UN refugee agency, which tracks more than 3.5 million Ukrainians and others who fled in just 25 days, almost a tenth of the population. pre-war period of the democratic country. Another 6.5 million people are displaced inside Ukraine, for a total of 12 million people stranded because of Vladimir Putin's invasion.
More than 2 million fled north to Poland, which represents more than 5% of the Polish population; Slovakia took in almost the same percentage of Ukrainians compared to its smallest population (250,000 refugees for a nation of 5.4 million). The refugee crisis is straining the Moldovan health system, according to Health Minister Ala Nemerenco.
"Obviously, this is an unprecedented humanitarian crisis," she says. But "the resources of the country are limited and we would not want this to become a burden for the citizens of the Republic of Moldova".
What could happen to us: Taking into account the UN measures, it would seem that around 8 million more people would flee Ukraine if a ceasefire is reached anytime soon, Alex Nowrasteh of the American Enterprise Institute tweeted on Monday. He called the current situation "the fastest refugee exodus ever recorded".
With its invasion stalled, Russia may soon resort to broader cyberattacks, or even worse, US President Joe Biden warned on Monday, days after US officials briefed executives of more than 100 companies on the heightened cyber threat. Biden's message was prompted by "evolving intelligence that the Russian government is exploring options for potential cyberattacks," he said in a statement.
The White House also released advice for private sector companies to better protect against cyberattacks, including "Mandate[ing] using multi-factor authentication on your systems", updating patches and backing up data. More information on all this, via the Agency for Cybersecurity and Infrastructure Security, here.
New: The United States sent some old Soviet air defense systems to Ukraine secretly acquired towards the end of the cold war, the the wall street journal reported Monday.
By the way: Russian air sorties have increased significantly, a senior defense official told reporters Monday at the Pentagon. Also, the Russian forces have moved to using more unclassified communications systems "because their classified communications capabilities are – well, for some reason it's not as strong as it should be. be," the official said. However, Russia still retains a "significant majority" of its ballistic missile capability and "more than half" of its air-launched cruise missile capability, according to the Pentagon.
The cover continues under the fold…
---
Defense One
State of Defense 2022 // Defense One Staff: Our annual service-by-service review of where the US military is and where it's going.
White House bureaucracy is costing Ukrainian lives, say senators // Jacqueline Feldscher: Lawmakers are urging Biden to send more aid and apply sanctions as soon as possible to help Ukraine beat Russia.
It's time for a protected humanitarian air bridge to Lviv // Barry Pavel and Philip Breedlove: Russia has no right to dictate who can enter and exit Ukrainian airspace.
Russia ramps up air war over Ukraine as some ammo runs out or malfunctions // Tara Copp: Russian bombers, fighter jets have flown 300 sorties in the past 24 hours, according to the Pentagon.
Welcome to this Tuesday edition of The D Brief, presented by Ben Watson with Jennifer Hlad. If you haven't already subscribed to The D Brief, you can do so here. On this day in 1960, the laser was patented by Bell Labs.
---
Snapshot of an invasion: "Several bodies were lying covered in dirty blankets," Reuters reported on Sunday from the southern coastal town of Mariupol, which has been under siege for more than two weeks. Most of the city is now "a strange wasteland of charred windowless apartment buildings… Some people have trudged past carrying their belongings in plastic bags or cardboard boxes. A boy pushed a shopping cart past a bombed-out car.
Russian forces fired on protesters in Kherson on Mondaythe New York Times reports. Kherson was the first major city to fall to the Russians nearly three weeks ago on March 2. Demonstrations against the Russian occupation have occurred quite regularly since. "While Russian troops had previously fired into the air to disperse crowds in the area, Monday saw an escalation in the violent response, including the sustained use of gunfire for nearly a minute, shooting direct on the crowd and the use of flash-bang type grenades", the Times reports. "At least one man appeared to be seriously injured, bleeding from the leg as he was carried out of the square." More here.
Other Russian troops go door to door to steal Ukrainians' phones in apartment buildings in Hostomel, north of kyiv, the Times reported separately on Monday. "Don't be mad at us, but if we find your phone, you will be shot on the spot," he warned a resident of Hostelel.
On the diplomatic front, any agreement between Ukraine and Russia to end the war must be decided by Ukrainians in a referendum, President Zelenskyy said in an interview with Ukrainian state television channel Suspilne on Monday. "The people will have to speak up and respond to this or that form of compromise." But it's too early to know what contingencies could be up for negotiation – some points discussed include barter on the Crimean peninsula and the two separatist enclaves Russia annexed in 2014 – let alone what might make one. referendum.
The EU is about to formally establish a 5,000-strong rapid reaction force, maybe as early as Thursday. The decision comes after a meeting of senior military leaders and diplomats in Brussels on Monday. The actual force, however, is not expected until 2025. The effort is part of a wider "strategic compass" that EU leaders put forward after initial talks in November.
For memory, "The force will replace existing European battlegroups that the bloc has had since 2007 but has never used," Reuters reports. And EU foreign policy chief Josep Borrell warned against seeing the new force as a replacement for NATO, but rather as a complement to the alliance, "which remains the foundation of the collective defense for its members," Borrell said in a statement Monday.
Just for your eyes: Review the latest NATO reinforcement efforts across Eastern Europe, in selected troops and equipment numbers, via this card of the alliance, shared Tuesday morning on Twitter.
ICYMI: Russia claims to have used a hypersonic missile in Ukraine, but the alleged evidence provided does not match the claim, The Drive reported over the weekend, suggesting (as Ankit Panda and Valerie Insinna pointed out on Twitter), the missile may have been more for distraction than battlefield effect.
Speaking of information warfare, the Kremlin introduced classes on the anti-Ukrainian propaganda letter "Z" in classes from kindergarten to high school, the Washington Post reported Monday after reviewing course recordings. "Children are told that Ukraine never really existed as a country and was once just a small piece of land called Malorossiya," said the To post reports. "A slideshow of maps follows, claiming that modern Ukraine is a Soviet Union construct and that areas such as the Crimean Peninsula – which Russia forcibly annexed in 2014 – accidentally fell into Kyiv's hands. after the Soviet collapse in 1991." More here.
Forget the West; pro-Russian elements advance pro-invasion memes in social media in Brazil, India, China, Africa and Asia, researcher Carl Miller highlighted last weekend on Twitter.
Traffic jam north of the border? Ukrainian officials say Belarusian railway workers are helping to sabotage lines south into Ukraine from Belarus. A little bit more via a non-resident member of the Atlantic Council Hanna Liubakovathrough Twitter.
Food for thought (crisis): "Russia and Ukraine account for 30% of world wheat exports, 17% of corn, 32% of barley and 75% of sunflower oil," the official said. New York Times' Jack Nicas reported Monday from Brazil. But now all that food is blocked, including 15% of the world's fertilizers, which come from Russia. History here.
Related reading:
"War in Ukraine jeopardizes wheat, but farmers in no rush to pivot," via The Associated Press, reporting from Dubai, Minnesota, Toronto, Ukraine, France, Australia and from Argentina;
"U.S. rethinks uranium supply to nuclear power plants after Russian invasion of Ukraine," via the the wall street journalreport on Tuesday;
"In Pokrov, Russia, sanctions force residents to stockpile sugar, tighten their belts," also via Reuters on Tuesday;
"Russian court bans Facebook and Instagram on 'extremism' charges," via AP, reports Monday from Moscow
"US soldiers integrate air defense for the first time in a major exercise in Alaska," via army timeMonday report;
And "WWII Holocaust survivor killed in Kharkiv, Ukraine," via Reuters, reporting Tuesday.
And finally today: when it comes to COVID and the military, is the lack of news good news? For the first time since last July, the Pentagon did not release COVID-19 case numbers last week, Military.com noted Monday. DOD spokesman John Kirby told the outlet that there are no plans to "reduce our flow of information," but did not say how often the numbers will be released to the media. to come up. More than 680 people affiliated with the military have died of COVID so far.
Meanwhile, the Navy has delivered on its promise to remove unvaccinated sailors from service and has now discharged 544 soldiers, the USNI reported Monday. The only service that separated more troops for refusing the vaccine is the Marine Corps, which withdrew 1,174 Marines. Learn more here.