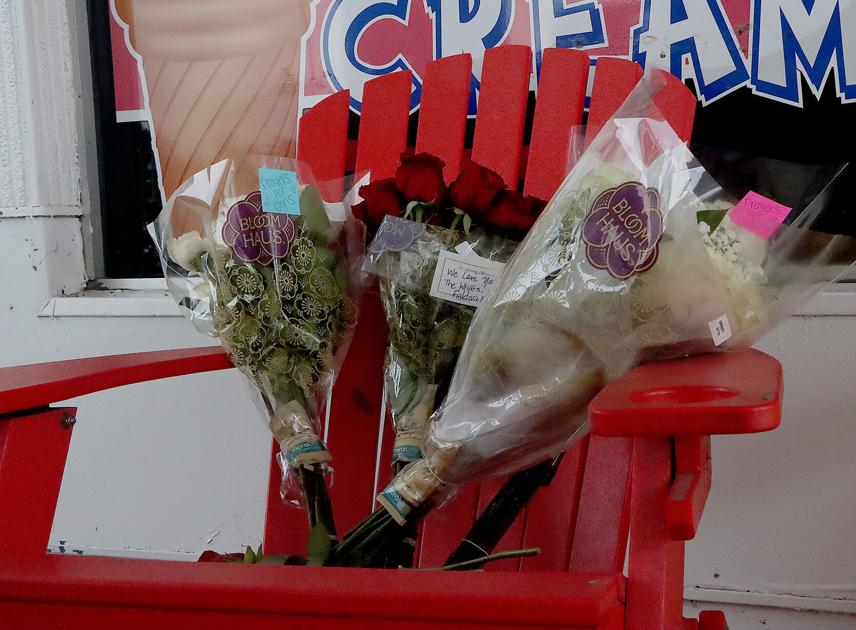 community mourns the loss of a Richmond couple | New
You don't have to look far to see the impact Christopher and Gracie Hager left on Richmond.
The couple's fingerprints are strewn across the city they loved and felt deeply connected with.
At Shell University on the Eastern Bypass owned by the couple, a small flower memorial was erected in memory of the Hagers. The telltale smell of candles and baked goods that was a signature of Gracie Hager's touch still in the air.
A sign outside Richmond Town Hall expressed prayers for the couple who were business leaders and mentors to so many members of the community.
Just down the street, the couple's antebellum-style home they were building on the site of a crumbling Victorian is the most recent example of projects the couple were working on.
"They were exactly the kind of people they were," Lori Murphy Tatum said of the Hagers. "They were the Richmond Chip and Joanna Gains. They were taking something that was ravaged and terrible and working to make it the most magnificent thing you could see. "
Murphy said the Hagers left their mark on Richmond, something the community can cling to following their deaths.
"If anything, the lesson we can take from Chris and Gracie is to make it better than the way you found it. They always did that, "Tatum said.
Christopher Hager, 54, and Gracie Hager, 52, were shot multiple times in Christopher Hager's duplex on Keystone Drive on Tuesday.
Thomas Birl, 51, of Cadiz has been charged with their murder.
As a community mourns the loss of the Richmond couple, many have shared stories about the Hagers.
Many spoke of the couple's deep love and commitment to their Christian values, their kindness and generosity, their sense of humor and their willingness to help others.
"Our hearts are heavy… in the face of the tragic loss of Chris and Gracie Hager, dear friends of so many," Eastside Community Church posted on Facebook.
The church will be holding a community prayer service tonight at 6:30 p.m. at the 2010 Catalpa Loop in Richmond.
Morgan Burdine was just 14 when she met Gracie Hager at the University Shell station the couple owned.
"I was with my mom and complimented this lady on her pearl earrings. She took them out of her ears and gave them to me, "Burdine said. "She was the sweetest lady."
Burdine said she will always remember going to the gas station when she was younger and how good she smelled and how kind Gracie Hager was.
"So many years later and I'm still going," Burdine said. "Now it will never be the same again."
Samantha Jo Shepherd, owner of the White Stitch store in Berea, said she was still in shock over the death of Christopher and Gracie Hager.
"They were great people and they touched the community in so many ways. I am so grateful for the opportunities they have given me while being their tenants. My business wouldn't be what it is today without it, "Shepherd said.
In a Facebook post, Shepherd said she rented a store from the couple seven years ago and their kindness and words of encouragement were paramount.
"They took a chance on my dreams, barely knowing our names. They mentored us and did what they could to make sure Miss Monogram thrived, "Shepherd wrote.
"Chris told me when we first opened the doors, 'If you work half as much for yourself as for someone else, you never have to worry about how you work. will you get out of it. I see you have it in you, you will succeed. Stop worrying and believe in yourself. These words have stuck in my mind every day since. You know what? He wasn't wrong, "Shepherd recalls.
Local companies Bluegrass Marble and Granite also shared a similar story on Facebook.
"Christopher and Gracie Hager were not just our clients, but our friends," the post said. "The Hagers tried their luck on Bluegrass Marble and Granite in 2018 and have continued to help us grow our business over the years. "
Christopher Hager, who was a real estate agent with ERA Professional Hometown Services in Richmond, was also active with Better Homes and Gardens in Naples, Florida. The couple also owned several residential properties.
According to the Naples Daily News, the Neapolitan community has joined in the mourning of part-time residents of southwest Florida.
"It's a sad and sad day here," Kathy Zorn, owner and broker at Better Homes and Gardens Real Estate Pristine in Naples, where Chris Hager had worked as an agent since 2019, told the newspaper.
The Naples Area Council of Estate Agents sent their condolences to the Hager family.
"On behalf of the Naples Area Board of Realtors and its member family, we are sad to learn of the passing of member Christopher Hager and extend our deepest condolences to his friends and family," said Chairman Corey McCloskey.
Richmond local Todd Mason said he spoke with Christopher Hager almost every week and Chris always answered his call. Mason said Gracie Hager often let him fill his gas tank at the couple's gas station when he didn't have any money on him.
"If there was anything I could learn from you, it's to be generous and full of gratitude," Mason said.
Tatum said she got to know the Hagers over the years, as they were neighbors across the street from the reception center, not once, but twice.
"We made fun of their Christmas decorations for many years when they lived across the street in the gray brick house. They had the best decorations. When they moved, we joked with them that the visitor center would now have the prettiest decorations on East Main Street, "Tatum recalls.
When the couple were building their new home on the site of the old "Scooby Doo" home, Tatum said Chris and Gracie Hager were eager to revive the decorating rivalry.
"'It's next year,' they once told us," Tatum said. "They were just wonderful, wonderful people. The community lost a lot on Tuesday.