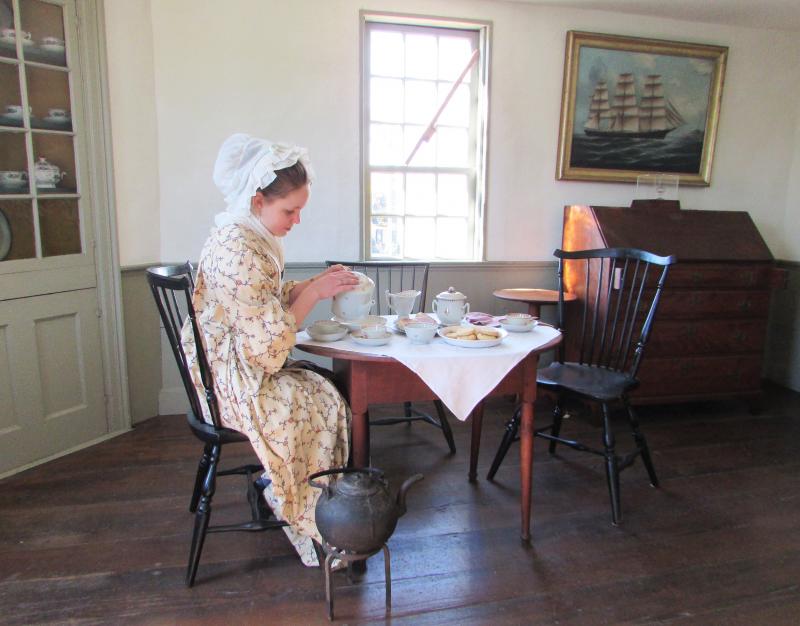 Chapman-Hall House presents 'Dressing for Tea with Mrs. Chapman'
The Lincoln County Historical Association's Chapman-Hall House Stewardship Committee provides a unique opportunity to observe women's and men's fashion styles from 1750 to the late 1820s in "Dressing for Tea with Mrs. Chapman" . The Zoom program at 6:30 p.m. on Thursday, May 5 will provide historical tea-making information as well as details on the changing fashions of the day.
By 1840, when England's 7th Duchess of Bedford raised it to a more formal teatime, stopping for tea with friends or family had already become an established tradition. In 1754, Miriam Chapman, along with her husband Nathaniel, braved the wilderness of Maine's unstable coast to establish a new home. Miriam was 47, but the Damariscotta colony was much younger. One can imagine the pleasures and comforts left behind by Miriam in Ipswich, Massachusetts. Despite the lack of a bustling city in her new surroundings, chances are Miriam has found a friend to have tea with and chat about the fashion of the day.
Those who register for the online event will receive traditional tea recipes, a list of tea varieties popular in the 18th and 19th centuries, and a list of foods suitable for any ancient American tea – all sent by email. Dressing for tea with Mrs. Chapman is a perk for the historic Chapman-Hall House in Damariscotta. Registration is $15.
Chapman-Hall House is one of three historic sites maintained by the Lincoln County Historical Association, a non-profit organization that provides stewardship of the Chapman-Hall House from 1754, the Pownalborough Courthouse from 1761 to Dresden and the former prison and museum from 1811 in Wiscasset.
To register and more information, please visit the LCHA website and click on "Upcoming Events". You can also email: [email protected] or call 207 882-6817.
For more information about the Lincoln County Historical Association, visit www.lincolncountyhistory.com or Facebook – Lincoln County Historical Association (Maine)