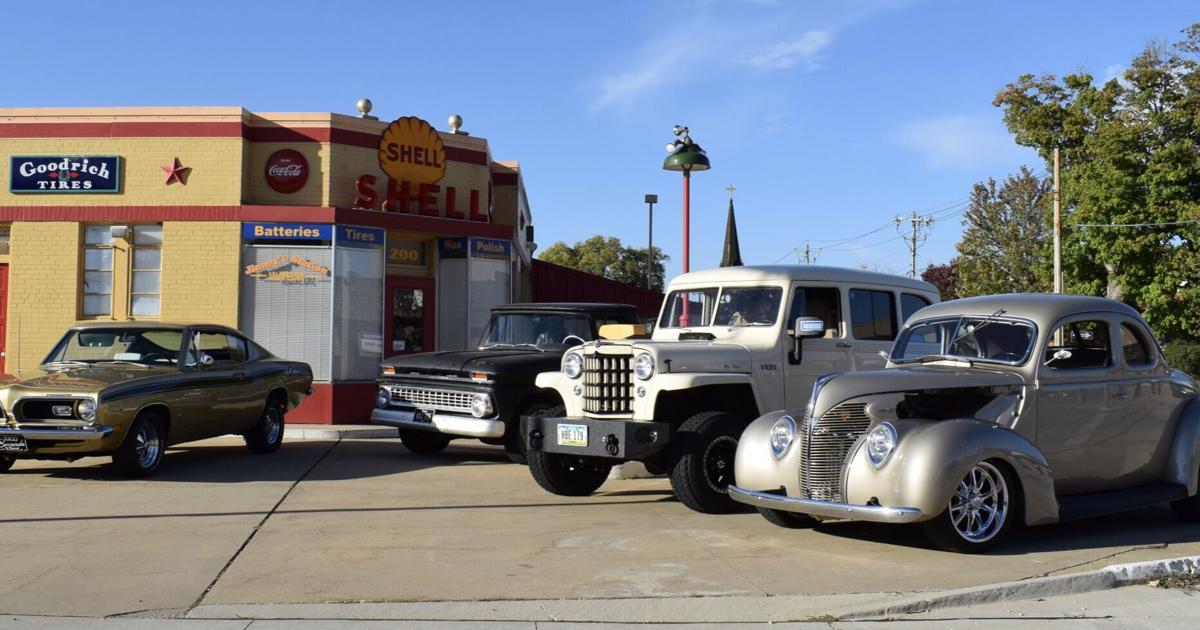 Bremer Co. Historical Society Car Cruise Series Stops in Sumner, Denver | Local
The Bremer County Historical Society and Museum (BCHS) celebrates the 160th anniversary of the museum building, which is listed on the National Register of Historic Places. What better way to celebrate and learn about Bremer County's past and local culture than by presenting its second season of "Cruising Through History". Two communities, Sumner and Denver, have partnered with BCHS to entertain cruisers this summer and fall.
The concept of having a classic car cruise combined with historic presentations in Bremer County was the brainchild of Barb Lovejoy-Hess and Gary Emkes, a Waverly couple. Both longtime residents of Bremer County, they love history and have been involved in several classic car organizations, attending many regional and international Kaiser-Fraser conventions held in the United States. They have also been regular attendees at various auto events and shows locally and in Iowa for the past few years.
Lovejoy-Hess and Emkes shared their idea with other BCHS board members, who first asked what a cruise usually is.
"It can be anything you want," Lovejoy-Hess said.
The couple also shared that they don't know of any auto clubs or other organizations that have run such a cruise. The council agreed that the historic cruises would provide a unique format to showcase their county's history that would also be fun for people of all ages.
With the rest of the board sharing the couple's enthusiasm for a series of cruises, a planning committee got into full gear planning projects for their first two events last fall, using an educational grant from the Bremer County Community Foundation and the Readlyn Community Fund to cover expenses. People navigated via their classic car or "daily driver" to designated historic sites where speakers shared interesting and educational information about the history of Waverly and Janesville. The Cruises' lead car was a 1951 Willis, owned by Lovejoy-Hess and Emkes, who first dreamed up the Historic Cruise concept.
The first of two cruises is presented in conjunction with Memories Are Forever, the Sumner School of 1901 State and National Historic Site and the town's community museum. This event will take place on Sunday, June 12, leading up to Sumner's 150th anniversary scheduled for July, and will highlight the history of the community.
The Sumner cruise package includes a tour of Memories Are Forever, which has over 20 rooms filled with historical exhibits.
Betty Brandt Passick, award-winning book author and northeast Iowa native, will speak at the school-turned-museum and answer questions about her books about the John Bartels of Sumner family from 1889 and "Gangster in Our Midst" featuring four classic cars.
They will hear about the founders of Sumner, Carpenter and Cass, while visiting the graves in Union Mound Cemetery. They will also see the historic Pennington House, have a view of the porch of the Westcott House, and walk through their city park.
Registration begins at noon at the Bremer County Historical Society and Museum at 402 W. Bremer Avenue, Waverly, and the cruise is scheduled to arrive in Sumner at 1:30 p.m. Memories Are Forever at 300 W. Fourth Street. Dash plaques, a coveted collectible of classic car owners, will be given to the first 25 who respond.
The second cruise will take place in Denver on Sunday, September 25, featuring longstanding community involvement and history of the American Legion, local cemeteries, Brandt Park, The Big Woods, and downtown historic buildings, including Diekman Hall.
Linda McCann, a popular local author, will share the story of Denver's railroad history, which she wrote about in her book Cedar Valley Road.
BCHS is looking for stories to share about other Bremer County communities, as well as storytellers and volunteers to help plan future cruise events that will continue into next year and beyond. Anyone interested is encouraged to call Barb Lovejoy-Hess on her work phone, 319-352 6348.