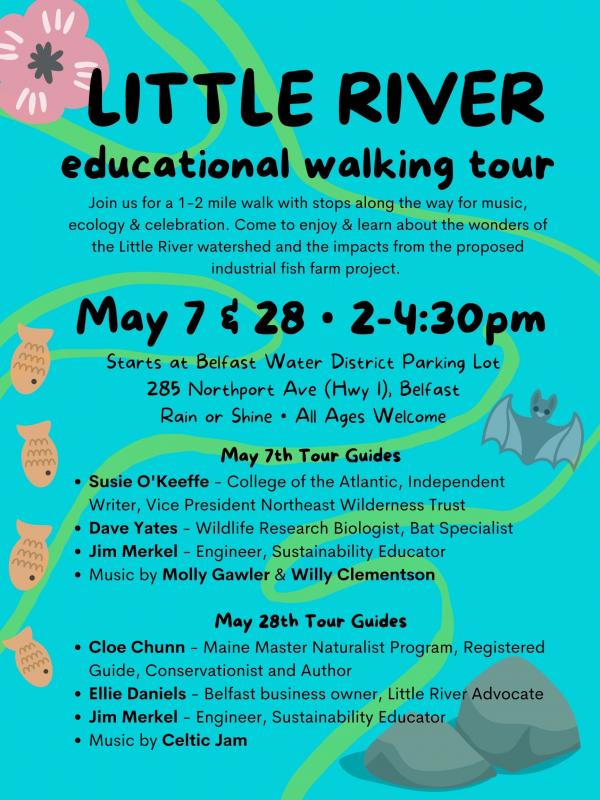 Belfast residents organize a tour of the Little River Catchment; discuss the impacts of the proposed aquaculture project
BELFAST – Maine biologists, scientists, naturalists and engineers are offering an educational tour of Belfast's Little River Catchment to celebrate the diversity of the river and educate people about the impacts of the proposed aquaculture project there . Visitation will take place on Saturday May 7 and Saturday May 28 from 2-4:30 p.m. The event is being hosted by local Belfast residents.
Join the organizers for a 1-2 mile walk with stops along the way for music, ecology and celebration. Come enjoy and discover the wonders of the Petite Rivière watershed and the impacts of the proposed industrial fish farming project.
Starts at the Belfast Water District car park, 285 Northport Ave (Hwy 1), Belfast.
Rain or shine.
All ages are welcome
For questions, contact Ethan Hughes at 207-338-5719.
May 7 Tour Guides
Susie O'Keeffe – College of the Atlantic, Freelance Writer, Vice President Northeast Wilderness Trust
Dave Yates – Wildlife Research Biologist, Bat Specialist
Jim Merkel – Engineer, sustainability educator
Music by Molly Gawler and Willy Clementson
May 28 Tourist Guides
Cloe Chunn – Maine Master Naturalist Program, registered guide, conservationist and author
Ellie Daniels – Belfast Business Owner, Little River Advocate
Jim Merkel – Engineer, sustainability educator
Celtic Jam Music
Full tour guide biographies:
Cloe Chunn is originally from Florida and has lived in Maine since 1974. She taught English, chemistry, and environmental science in high school and college, and continues to teach on a voluntary basis. Cloe often leads trips on foot and on water, with a naturalistic approach to exploration. She is co-founder of the Maine Master Naturalist Program and the Penobscot River Paddling Trail, author of Fifty Hikes in the Maine Mountains, Maine-registered guide, and an avid climber, paddler, and conservationist. His other interests include civil rights and Wabanaki Reach support activities. Cloe was a member of the Pen Bay Stewards Class of 2004.
David Yates holds a bachelor's degree in wildlife biology and management and a master's degree in conservation biology. He has been a Wildlife Research Biologist at IRB since the Institute was established in 1998. As Director of the Mammals Program, he is actively involved in various field studies focusing on wildlife conservation and management. fauna and the assessment of the health of aquatic ecosystems by screening for contaminants. He studies bats as an indicator species for mercury exposure. He has been studying Myotis bats in Acadia National Park for over 10 years to help the park make management decisions about bats. He also conducts inventories of small and large mammals for various state agencies and the Department of Defense and other federal agencies.
Susie O'Keeffe holds an MSc with Honors in Environmental Management from the University of Oxford, England. As a research associate at the College of the Atlantic (COA) in Bar Harbor, Maine, she explores the root causes of the ecological crisis. Titled The Art of Reciprocity, Susie's work focuses on the role that expanding human consciousness and compassion play in resolving this crisis.
She is a poet and published author. Her writing has appeared in Spring: A Journal of Archetype and Culture, Phylogeny, the Spoon River Poetry Review, The Maine Review, RewildingEarth, and various academic journals. Susie is vice-chair of the Northeast Wilderness Trust and a board member of Upstream Watch.
She lives in Montville, Maine, where she learns to grow native flowers, plants and trees to support pollinators and other wildlife.
Molly Gawler is the choreographer and dancer of Droplet Dance, creating performance art in celebration and awareness of water through joyful movement.
Willy Clemetson is a violinist and songwriter with a passion for live traditional music. He tours with the group Northern Harmony, a choir that performs internationally, and the folk trio Spintuition.