ArtSci Roundup: Hostile Terrain 94, Lux Aeterna, and more
arts and entertainment
August 10, 2021
Through public events and exhibits, connect with the UW community every week! This week, attend gallery shows, watch recorded events, and more. While you enjoy the summer vacation, connect with the campus via the live UW webcams of Red Square and the quad bike.
Many of these online opportunities are advertised through Zoom. All UW faculty, staff and students have access to Zoom Pro via UW-IT.
---
Hostile ground 94
Until October | Henri art gallery
Hostile ground 94 (HT94) is a participatory art exhibition created by the Undocumented migration project (UMP) and led by UCLA anthropologist Jason De León. Present in more than 130 cities around the world, the facility aims to raise awareness of the realities of the U.S.-Mexico border, focusing on the deaths that have occurred almost daily since 1994 as a direct result of the border patrol policy known as of "Prevention Through Deterrence" (PTD). HT94 renders the human consequences of DPT policies, while promoting both global and local discourse on migrant labor, detention and other intersecting topics through collaborative programs with community partners.
Free | More information
---
Lux Aeterna
Until August 28 | Jacob Lawrence Gallery
the Jacob Lawrence Gallery + Northwest Film Forum proud to present Lux Aeterna, an exhibition featuring 16 local, national and international artists working in a wide variety of media to explore the mutability of media created and consumed using ever-changing platforms.
This exhibition examines how technological, economic and cultural forces shape the way we produce, share and experience media – and how these media in turn influence our aesthetics and values. By retracing the currents of technical migration and circulation of images, the exhibition raises topical questions about property and loyalty. He experiments with media as a tool for empowerment in a time of existential uncertainty. And he wonders if the media, like light, could outlive humanity, sending a message forever.
Free | Book tickets and more information
At your own pace
Looking for other ways to connect with UW? Discover this recorded and asynchronous content accessible at any time.
---
What is human anyway?
The "human" is a category historically constructed with political and social action, and in Western science and culture, he makes a hierarchical distinction from other animals and life forms. In this process of differentiation, animality has been racialized and used as a means of limiting freedom and protections to those members of humanity who threaten a fantasy of white superiority. How do these hierarchies and distinctions persist in the development of political and social relations? How could interspecies thinking reveal new opportunities for liberation work through different forms of oppression brought about by racism, sexism, imperialism and capitalism? And, thinking beyond the animal, how could we turn to other forms of interspecies connections and multispecies agencies to recalibrate the human sense of survival on our damaged planet? ? This registered event sponsored by the Henri art gallery answers these questions and more.
Free | Watch and more information
---
Celebrating the release of Bonnie Whiting's album: "Perishable Structures"
Washington University Bonnie Whiting Chair in Percussion Studies celebrates the release of his new album "Perishable Structures" (New Focus Recording) in this recorded performance from the Brechemin Auditorium of the School of Music.
ArtsUW: on demand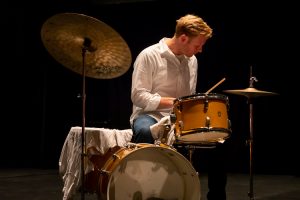 Discover the arts at the University of Washington from the comfort of your own home, at your own pace. These event archives give you the ability to watch the latest lectures and virtual performances, and view recent digital exhibits. In addition, visit ArtsUW Events to see what's coming up.
---
Looking for more?
Discover the UWAA Stronger Together webpage for more digital engagement opportunities.
Tag (s): ArtsUW • Burke Museum of Natural History & Culture • College of Arts & Sciences • Department of English • Henry Art Gallery • Jacob Lawrence Gallery • Meany Center for the Performing Arts • Meany Hall for the Performing Arts • School of Art + Art history + Design • Music school
---