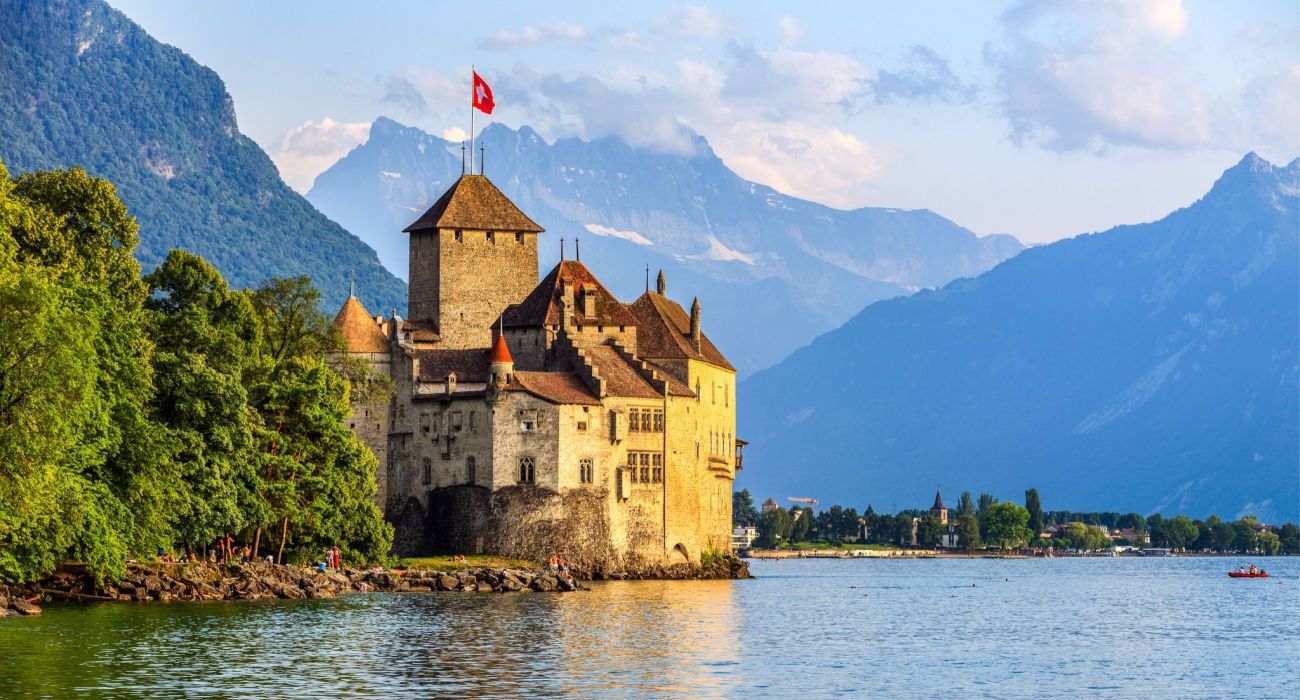 A hidden travel gem in Switzerland filled with adventure
Ticino also called Tessin (in German) is located in southern Switzerland near the Italian border and is one of the 26 cantons of the country (AKA areas inside the countries). It is on the southern slopes of the Swiss Alps and has a total area is 2812 square kilometers and a population of 350,000 people.
Ticino is the only canton in Switzerland where Italian is the official language. Its warm climate and daily averages of 18 degrees Centigrade make Ticino one of Switzerland's top tourist destinations. Ticino is a travel gem filled with adventure for visitors.
Explore the natural attractions of Ticino
Ticino has more than 4000 kilometers of marked paths and trails which make it a dream destination and a playground for outdoor enthusiasts. Hiking, walking, biking, driving and boating open up the scenic and lush landscapes, vineyards, sparkling lakes, architecture and culture to visitors.
Nestled in these landscapes, terrains and lakeshores are beautiful cabins and campsites where visitors can bask. Ticino also has picturesque parks and gardens with various trees and vegetation that bloom beautifully according to the seasons, such as:
Mount Verita Park
The Brissago Islands
Gambarogno Botanical Garden
San Grato Park
Scherrer Park
Forcaridra-Forest-Reserve
Centro Pro Natura Lucomagno
Ciani Park
Breggia Gorge Park
Visit the three castles of Bellinzona
Designated a UNESCO World Heritage Site in the year 2000website features three castles of Bellinzona: Castelgrande, Montebello and Sasso Corbaro.
The fortresses built in the 15th century by the Dukes of Milan are on 5 hectares of land. Touring visitors get a glimpse of when the Dukes fought Confederates in shining armor.
Castles have towers, thick walls with tiny gates, battlements and secret rooms. Visits to the castle take an hour and a half and be 5.44 kilometers long.
RELATED: What to know about visiting the magnificent Château de Chillon in Switzerland
Castelgrande has a museum that archives the history of Bellinzona and hosts historical exhibitions, as well as a restaurant to cater for hungry visitors.
Visit the lakes of the Piora Valley
The scenic and lush Piora Valley has scenic mountainous landscapes dotted with small lakes and high peaks. The trek around this valley is worth experiencing due to its tranquil and pristine nature.
Visitors can also tour the lakes aboard the red Ritom Funicular, one of the steepest funiculars in the world. The way of ascent is 1369 meters long and has a slope of 87.8% which keeps 100 passengers nervous for a 12 minute ride.
The funicular tour allows visitors to have a breathtaking view of the entire valley, Upper Leventina and the mountains that overlook it. During these excursions, visitors can also taste piora cheese, Ticino's best-known cheese, or cool off in Lake Tom.
Costs of the ride on the Ritom funicular
Ritom Funicular rides can also be booked in advance.
Adult tickets: A trip costs 14 Swiss francs (about 14.07 USD), round trip 24 Swiss francs (about 24.12 USD)
Visit the largest open-air museum in Switzerland
Occupying an area of ​​14,000 m2, Swissminiatur is the largest open-air miniature museum in Switzerland and is surrounded by scenic mountains that rival Austrialike Monte Generoso, San Salvatore and San Giorgio.
RELATED: Five museums in five Swiss cities to visit by train
Opened in 1959, the museum has 129 miniature models of famous Swiss monuments, buildings and various means of transport from years past. There is also a 3,560 meter model railway network that winds its way around Swissminiatur.
This museum is ideal for family holidays and offers many fun and educational activities to keep children busy.
At Swissminiatur there is also a shop for buying Swiss souvenirs and a restaurant where hungry visitors get their food.
General admission fees
Tickets for Swissminiatur can be purchased online.
Adults 17.55 Swiss francs (a little less than 18 USD)
Children 11.25 Swiss francs (11.31 USD)
Treat yourself to extreme adventures in Ticino
Ticino is brimming with extreme adventures for full-fledged adrenaline junkies and first-timers alike to try and make memories, and even channel James Bond. These include:
Tandem paragliding flights
The picturesque town of Ascona, on the shores of Lake Maggiore, is where visitors go for paragliding flights performed in tandem with qualified pilots. The flights are from March to October and each one lasts 2h30.
Canyoning in Ticino
Ticino has mountain rivers and waterfalls with challenging obstacles like natural slides, wells and waterfalls where visitors can go canyoning.
In Ticino, there are sports clubs that visitors can approach to obtain equipment, such as ropes for abseiling, jumping, sliding or climbing to overcome these obstacles.
Bungee jump like Bond, James Bond
In the Verzasca Valley there is a high dam with a drop of 220 meters and it is one of the highest dams in Europe. It is famous for the opening bungee jump scene in the James Bond movie GoldenEye with Pierce Brosnan.
According to worldwide surveys, Bond's bungee jump is considered the best stunt in the history of cinema. Adrenaline junkies keen to follow Bond's adventure can bungee jump at the Verzasca Dam.
Costs
Aptly named 007 Bungy, the dam offers different bungee jumping packages open to 20 years and over and can be booked online. Prices are in Swiss francs, with 2022 exchange rates equating to a few cents more in USD.
Headfirst 007 Classic Jump (195-255 Swiss francs)
007 Back jump (175-195 Swiss francs)
007 Night jump (195-255 Swiss francs)
007 Ultimo Jump (175-195 Swiss francs)
39 Swiss francs extra charged to use a GoPro camera
Learn a trade Gordola Craft Center
At the Gordola Handicraft Center (Centro dell'Artigianato) is where Ticino craftsmen produce different handicrafts.
At the Centro dell'Artigianato, visitors learn a craft, like pottery, from local ceramic artists and can make and take home souvenir artifacts.
RELATED: 8 things to do in Grindelwald Switzerland
Other handicraft visitors include stone and wood carving, metal working, silicon casting, 3D paper, figure modeling and modeling, and plaster. These courses last at least six days and cost from 300 to 1600 Swiss francs (about $301.47 to $1607.86).